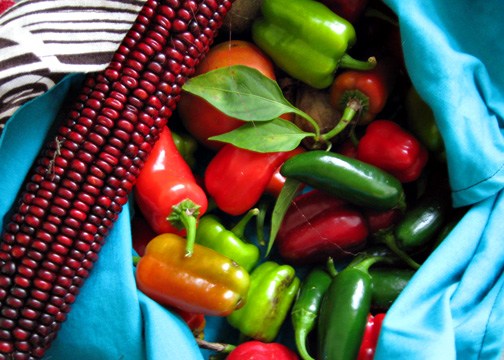 Tonight we picked the last of the peppers in the garden. The plants are still trying to flower but I doubt we'll get much more from them. I also grabbed the only good cob of corn – we have some other, smaller ones on the stalks still, but they're not great so I'm going to leave them for the squirrels.
This season's garden just wasn't all we hoped it would be. Another year of fighting weeds, bugs, and just not enough time. Our tomatoes were pretty worthless, with most of them either ending up with rot or bugs nibbling on them. The kale did great, but we never even touched it (talk about a waste!). The eggplant only produced two fruits but they weren't great, either.  I'd like to blame the weather entirely for the garden's faults, but it's our own faults, too, for not keeping up on it more, keeping it weeded better, etc.
Lessons learned and notes for next spring:
Trellises were a great idea… if we had actually gotten them all installed in time.
Pickling cucumbers suck as a regular eating cucumber. Skip those next year. Also skip the kale, the celery, and the eggplant. Complete waste when we don't even bother to eat them. (Perhaps that's something to work on next year?)
That burgundy corn? Plant that again! If only because it's absolutely gorgeous!
Tomatillos – you need to pick those suckers earlier before they drop off the vines. Also, the ants like them.
Start the seeds indoors and actually pay attention before they dry out and die! NO MORE STORE-BOUGHT PLANTS NEXT YEAR!
PUMPKINS.  Absolutely must plant some sort of pumpkin!
Garden soil definitely needs some amendments to fix that blossom end rot the tomatoes had.
In the ultimate dream of being self-sufficient and producing enough food to can and preserve to (mostly) provide for ourselves… we've failed greatly. So I guess it's good that we don't actually have to provide for ourselves through our garden!