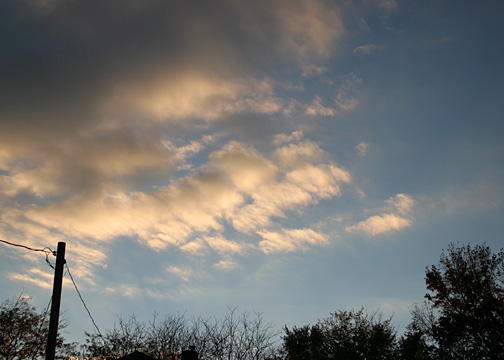 Last night we had these pretty clouds in the evening, and I realized how thankful I am to live in Ohio. To be relatively safe, as far as natural disasters go. Seeing the photos and updates on Typhoon Haiyan in the Philippines is so heartbreaking. So many people without food and shelter, so many dead. Absolutely, completely and totally heartbreaking.
Today is Veteran's Day, and I'm probably supposed to write about how thankful I am for those who served. My Facebook feed certainly is full of those sentiments. But I can't stop thinking of this natural disaster and the families this has changed forever in just a single event. I can't stop thinking about the people who are in need of us right now. This very second.
The Huffington Post has put together a list of places you can donate. I'm sure there are, and will be, others as clean-up begins and new needs arise. Please consider helping in any way you're able.