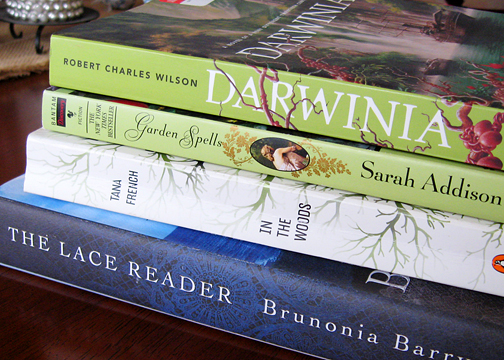 I did something yesterday that I have never done before – I took a giant bag of books in to Half Price Books to sell. Normally I'll pare back my books every year or so and donate them to our local library book sale, which is also the same sale I'll attend to find new books to read. It's a nice little circle of life for the books, really. But today I knew we'd be near a HPB, and I liked the idea of trading in my 'read' books for some credit toward new ones, so I thought I'd give it a shot.
I probably traded in almost 20 books, all in great condition because I'm picky about keeping my books as nice as possible, and wound up getting a grand total of $8. On one hand I was a bit disappointed that all I was offered was eight measly dollars, but on the other hand it was $8 more than I had before. And while my books were in great condition, they weren't anything that was in high demand so I was not like to receive anything more if I tried to sell them online somewhere. In the end I decided to take the positive outlook and accepted my $8 and went on my way to find a book to buy in exchange for cleaning out my old ones.
And wouldn't you know it, I couldn't find a single book I wanted in stock at that location or in my price range. I looked and looked and looked, desperately trying to find one of the titles on my reading wishlist to pick up. The store had exactly one copy of The Night Circus in hardcover but at $13.49 it was over my $8 limit.
Feeling defeated, I made my way to the clearance shelves (which is usually where I start in the first place, and should have started yesterday). It was there that I struck gold. The Lace Reader? That was on my list. Cost? $2. In the Woods wasn't on the list, but I had found it new at a store once and thought it sounded interesting. The other two I was totally unfamiliar with, but they sounded interesting and for $2/book I was willing to take a gamble. All in all I paid $0.54 out of pocket in sales tax for my new reading materials. Not too shabby!
Would I do a book sale/swap at HPB again? Probably not. We never buy brand-new books that would be worth much of anything to sell back. $8 is $8, but I think in the future I'd rather continue donating our unwanted books to the library sale in exchange for clearing out space for new-to-us books from the same sale. At most I received less than $.50 per book, and half the books I sold would have gone for $1/book at the local sale. And it just feels better donating and shopping the sale – the money raised from it is put to use via the summer reading programs for kids and some adult programs as well.