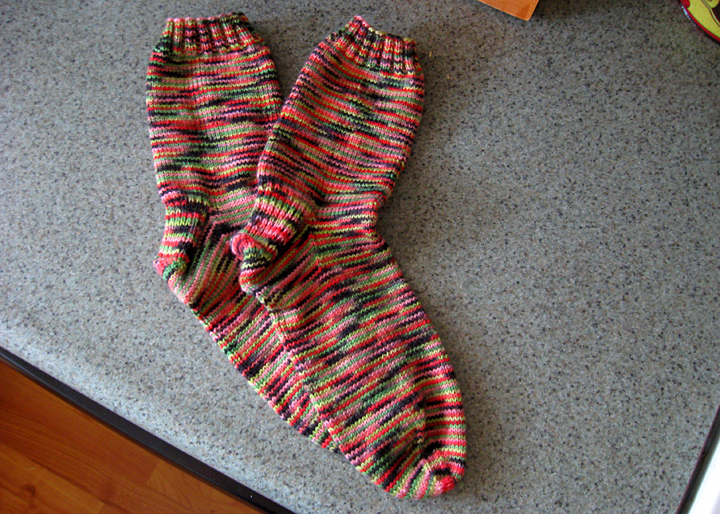 Well that's at least something out of the stash and WIP pile. These socks are ugly. The yarn looked so pretty in the skein, but it knit up something awful. I don't know why I buy and knit with variegated yarns like this – I know I'm never totally thrilled with them. I'm more of a solids or madelinetosh subtle type of knitter. Oh well, at least they're on my feet and not my head.
I cast on a hat for the baby today. Well, it's the "toddler" size, which I'm hoping means it will fit him this coming winter. If not, I'll just gift it to someone.
Planting season is right around the corner. I have not even worked a minute in the garden yet. Ugh. If I didn't have this dream of my garden being nice and full by August for the baby's Peter Rabbit-themed 1st birthday party then I'd just call it a fallow year and let it go. I might have to ask my sis or maybe my friend Liz to keep him for a few hours so I can go outside and get everything cleaned up and planted.
I've been going through and purging a lot of things, but a lot of that is the baby's fault. Now that he's mobile and able to grab at tons of things there's this need to seriously clean and de-clutter. A lot of it is stuff that I've been meaning to do, or didn't feel like I could part with. Now it's just stuff taking up space, stuff I have to pick up off the floor after he gets to it, stuff I have to pull out of his mouth, etc. Though, honestly, I do wonder if maybe my better emotional state is helping with all of this – as if my difficulties in the past to part with things was all due to bouts of depression that I didn't necessarily realize I was dealing with. Postpartum was definitely noticeable because everything was dark and sad internally, but that's really the first time I've felt it to that extreme. So I suppose it's entirely possible that mild depression has been my clutter-reducing downfall.
Tomorrow I'm going to try to get a picture of my wardrobe piece #2 (fingers crossed). And maybe that hat I'm making for the baby which should, really, be done tonight if I just veg out on the couch until 10pm.