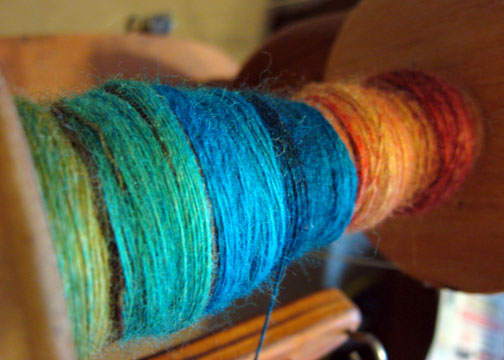 I seem to go through phases with spinning. I love doing it. I love watching a chunk of roving go from a fluff of fiber to a tiny strand of yarn. I love watching the colors shift with each manipulation from fiber to singles to plied yarn to finished/knitted product. But the timing for it has to be right. I have to have a day where not much is planned and I just want to watch movies (or, in the summer, hang out on the porch with a lemonade and watch the world go by) and make something. Or be holed up sick in the house and need something to keep me busy in between breaks from knitting.
I'm not always in the mood for spinning, and my wheel sits empty much longer than I like. But this weekend was one of those perfect times to sit down and dig some fiber out and make yarn. The fiber (superwash merino from Creatively Dyed) isn't something normally that I would pick. It's a little 'busy' as far as the colors go – the roving ranges from green to teal to blue to red to rust to tan. But that was the point when I purchased it – I wanted to jump out of my 'comfort zone.' I wanted to take something that I was unsure of and watch it transform, little by little, to something beautiful. And so far I'm really thrilled with how the singles are turning out.
For the record, I'm aiming for this to become a 3ply sock yarn. Whether I end up with that, however, is to be determined. This yarn is spinning thicker than I would like, but I'm just going with it. I've learned not to fight the fiber and just let it be what it would like to be, and this may very well end up being a nice little 2ply for yet another scarf or shawl (which I seem to be knitting a lot of lately!) – or perhaps it'll be a nice sport weight that I can pair up with some of the brown wool in my stash for a colorful yoke of a sweater! (I like that idea far better!).