If you remember, a few months ago I posted about my current spin-in-progress. Well, nearly two months later I'm finally finished with the singles. And, instead of my initial intentions for a 3ply, I ended up just doing 2 bobbins for a 2ply.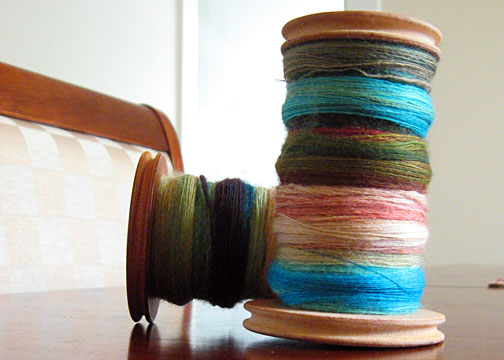 I'm not sure how I feel about this yarn yet.  Now that I see the finished singles I'm worried the final product will be…. ugly. There are just soooo many colors and while they're all gorgeous on their own, I'm afraid they'll look awful plied up together.
I'm also second-guessing my decision to do a 2 ply. A 3 ply would have lent itself to be more 'blending' of the different colors. But I get more yardage out of the 2ply, and that lends itself to nice lace knits to show off the yarn better.
I guess I'll just have to ply tonight and see how it goes. This will either be an epic win on stepping out of my comfort zone, or an epic fail that results in me never trying anything 'different' with spinning again.