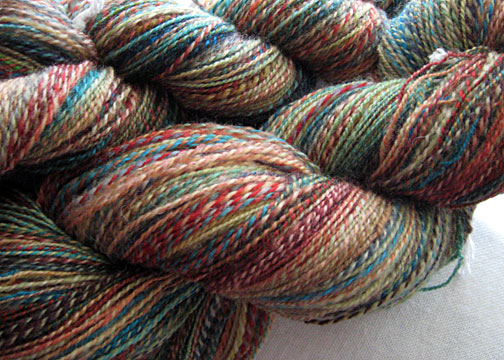 Well, here it is. The finished yarn. 850ish yards of handspun beauty. This sets an entirely new record on yardage for me. The braid of fiber was only 4oz. No wonder it felt like I was never going to finish the plying – 850 yards! Good grief.
I was still unsure of the yarn until I started winding it off the bobbin to see the colors blend. The red isn't near as pronounced when you twist it up with the other colors. It's a very colorful fiber and I think it wants to be woven into a scarf. The colors would blend gorgeously in a woven item, though I may just be using that as an excuse to try to coax the Mr into buying me a loom for my upcoming birthday.
I think, if the loom thing doesn't pan out (and it probably won't), I'll be casting on for Mini Mania scarf. A sideways-knit, textured scarf would be a perfect match for the colors and give it that woven look without actually being woven.  The downside to this is casting on 500 stitches, and then knitting row after row after row through all 850 yards of fiber with what might end up being the most boring knit ever. Which means it'll probably end up being my no-brainer knit – the kind I take with me to knit group, sporting events, family gatherings, etc that I can knit and knit and knit without worrying about messing up or having to follow a pattern.