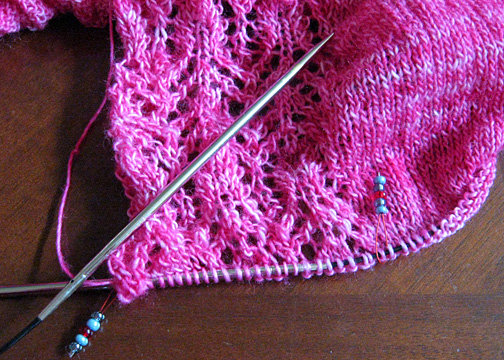 It is truly rare that I buy yarn for myself and immediately cast on for something with it. I'm far more likely to buy yarn with plans for a project, but won't get around to that project for some time. I have yarn in my closet meant for a Dark & Stormy cardigan for this winter, but I purchased the yarn knowing I won't cast on for it until about October or November when I'm ready to think about knitting a worsted weight cardigan for winter.
The Creatively Dyed lace I purchased at the Great Lakes Fiber Show this year was begging to be cast on, however. I wanted a light weight cardigan, and I wanted it now. I wanted something with a bit of lace so I didn't get too bored. I wanted something that flattered my figure (which I'm learning to look for after getting Amy Herzog's Knit to Flatter book). Grisaille it was, though with some modifications to make it hip-length and shorten the sleeves to 1/2 or 3/4 length.
I've been fairly obsessive about knitting this. I cast on June 1st, and I believe by tonight I'll be able to cast off the body and move on to the sleeves. When I'm not knitting this I'm thinking about knitting it. I get anxious when I want to knit more on it but can't because I'm either at work or doing something else equally important and adult-like. I feel like this project is taking forever, though I know in reality that today is only the 17th and I've made quite the progress in just 17 days. In my head, though, 17 days isn't fast enough! Every time I try it on to see where I am length-wise I fall more in love with the light weight of it. I have a feeling this lace cardigan idea might quickly turn into a knitting addiction.