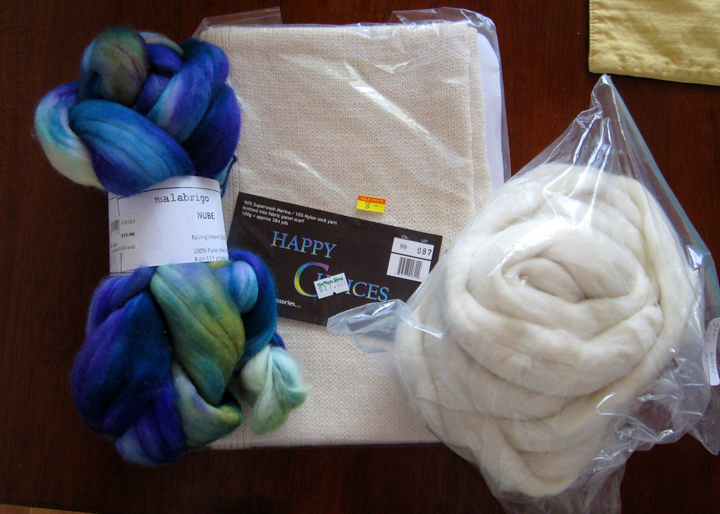 Every year my knit group girls and I go yarn shopping. We get brunch, then shop, then ice cream at Jeni's. The date of the shopping trip changes from year to year, but it's always either on MLK Day or President's Day because we're a group who work the type of jobs that give us those days off as holiday.
Knowing this date was coming, I've been desperately trying to get in the mindset of not buying yarn. I have several sweaters worth already, plus plenty of sock and lace and miscellaneous balls of worsted wool that could be made into hats and gloves. I, truly, do not need more yarn unless the need arises for a specific project. That's how I'm rolling with this no-buying-yarn thing lately: it needs a specific project, which means no buying yarn just to buy it without finished object in mind.
The day went (mostly) well. I drooled over all the pretty Malabrigo and Madelinetosh, wishing desperately to snatch a few skeins up for a sweater or just a hat, even. But I do not need more hats, and I have yarn at home. I repeated this over and over with every idea that popped up. Socks! Nope, I already have several pairs worth waiting to be knit. Maybe a scarf? No. Another lace cardigan? How about you finish the 5 sweaters you already have yarn for first?! I bullied myself into not buying yarn, and came out of my favorite yarn shop with some lace blocking wires (something I actually needed) and some Malabrigo Nube wool for spinning (colorway is Indiecita). I justified the wool because I don't have a lot hanging around, and I always love watching the singles transform into a gorgeous yarn once plied.
And then we went to a new yarn shop. One I've never been to before. It was a fairly large shop, and the woman working was quite sweet. I have this need to buy things (which is why I'm in the too-much-yarn department) and felt like I needed to buy something at this shop. It's important to support small businesses, after all. I paced the store multiple times, reminding myself of my goal. I ultimately decided on a $10 bag of 4oz of wool that I can dye and spin later. One more ball of wool wouldn't be a big deal, right?  Annnnnd then I looked at the clearance section. Clearance yarns are my weakness. Good yarn at discounted prices?! SIGN ME UP! I pondered a few balls of a pretty purple lace-ish wool that looked a bit like a patterned sock yarn only less garish – it would have made a lovely cardigan with some black dress pants for work. But that would be another 1,200+ yards of yarn coming in, with not near enough going out, so I let it go. And then I ran across sock blanks. Three of them, $8 each. I may be on a yarn diet, but I'm not stupid. Knit Picks wants $20 for a sock blank. The original price on this was $17. $8 is a freaking bargain.
So one sock blank came home with me, and the other two went with two of my knit group girls. We'll be dyeing them up at our next cabin trip in November. Which is why this yarn totally doesn't count – if it isn't dyed it isn't "usable" since I'm certainly not going to unravel it just to make myself a pair of plain natural-colored socks.
And that's how I'm justifying today's yarn purchase.