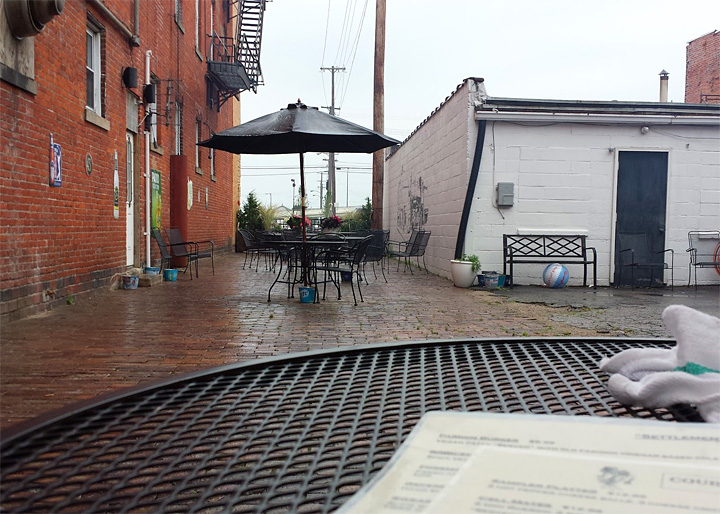 Friday night I attended my first book club. My dear friend has been talking about it for a while, and she's constantly telling me "you need to come with me" so I can meet other people. More specifically, other local moms. I think it's her way of trying to make me feel less alone in my struggles while also trying to get me out of the house so I can get a break from life. And since I always say I want to read more, and since I'm trying to find ways to sneak in time for myself (as much as I hate them, I've taken to reading ebooks on my phone since I can do that while the baby naps on me), I decided to buy the book (The Girl on the Train) and read it and attend the discussion.
We met at a local place I haven't been to before. It's a pub/grill next to the courthouse, and all of the sandwiches are named cutesy names related to the courts/jail. I really hate to admit it, but we're horrible about not eating at the "local" places. Our town is full of chain restaurants, so you'd think we'd make a point to support the local places more, but we're just not good at it. We forget about them. Or, as is the case with this place, because it doubles as a bar and a lot of the downtown bars are gross, we just ignore it and go on thinking it's bad like the rest of them. I'm happy to report that I was severely mistaken, and that this place is quite lovely. There wasn't much seating inside, and we had a group of 6, so we were set up outside under a tent on the patio. It was rainy and drizzly and fairly cool for a late June evening, but it was perfect. Absolutely perfect. And this view? Surely it doesn't rival that of those I know others have in their towns, but this patio felt quite cute as far as outdoor patios downtown go.
Book club itself was ok. Things are always awkward when you're the new kid at something. The book was just okay for me, too, so it wasn't anything I was really thrilled to discuss. But it was a nice change, and nice to get to go hang out with some new people. The next book we're reading is Holly Madison's tell-all on the Playboy Mansion, which I'm probably a bit too excited about. The Girls Next Door was my guilty pleasure for years. I bought it and have it on my phone, I just need to finish the book I'm already reading, first (Cinder).