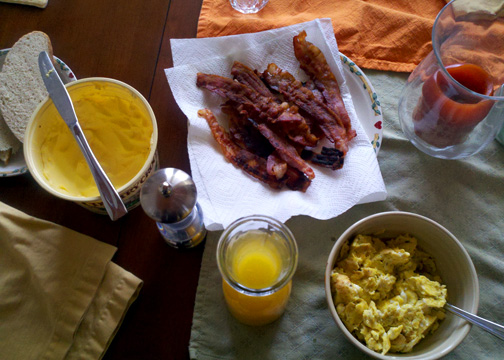 This is not an every day occurrence. I wish I could regale you with stories of some sort of tradition we have around the house. Or talk lovingly about how awesome eating dinner at the table like an effing adult feels (those moments are few and far between despite drawing ever closer to my 30s – NOT at all how I pictured my life and how I'd feel when I was a kid). I'd like to pretend that everything about my life is how I want it, and how I love and cherish the little things such as a simple breakfast.  And some days are like that. Today, dear readers, is not that day.
I do wish, sometimes, that my life was like this every Sunday – homemade bread, fresh-squeezed orange juice (SO GOOD!!), a menagerie of foods to indulge on while chatting with the family about plans for the day, things that need done, etc. If I were living my ideal/dream life I'd be in an old farmhouse with maybe a rooster crowing in the background while things sizzle on the stove, the eggs would be fresh from the coop, homemade breakfast would be at least an every weekend thing, and we'd all sit down at the table together as a family and children would entertain us with stories as we eat. Then maybe we'd all go off on our separate ways, or maybe we'd take a trip to the used book store to pick up some new reading material, and maybe just perhaps a quick stop into the fabric shop to pick up some pretty fabric for a certain child's new pajamas. And then we'd all collapse back at the house to read, craft, draw, and play. Or maybe we'd pack up a picnic and and go lounge in the sun, children and adults reading and lazing about enjoying a warm, summer Sunday. Or maybe we'd go pick fresh berries from the property and can up a batch of homemade jam, so we can savor the tastes of summer when it's the middle of winter with a foot of snow on the ground and not a single berry in sight.
It's all very pollyannaish. I realize that. And maybe it's a silly dream. I'm a silly girl, sometimes. I know nothing is ever perfect, and rarely do things ever go how you want them to. But a girl can dream.
(It was a very lovely breakfast, even if my family does think I'm crazy for suddenly deciding that we need to start eating at the table instead of in front of the TV. Eating at the table, in my opinion, is a lost art that I feel like I'm desperately trying to foster back to life in our little home.)