Ya'll, I did it! I ran my first ever 5k! And it was awesome and amazing and miserable and hot all at the same time.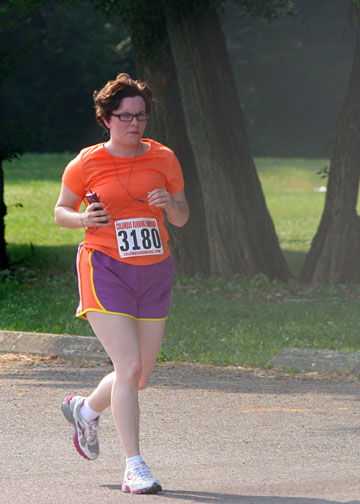 We woke up early and had to leave the house by 7am to meet up with my running buddies at the race site at 8am. It really ended up being too early – the race didn't begin until 9am, and we had a lot of time to just sit around and hang out waiting for it to start.
At 8:53 we all began lining up behind the start line. The whole thing barely felt real, me standing there in a mass group of other runners. I thought I'd feel anxious, like I had butterflies in my stomach, but instead I was the total opposite. I was unusually calm. When the air horn blew to start the race I just went.
I ran. I walked. I ran a lot more than I walked. I was passed, and I passed people myself. As I ran I was choking back tears. I've wanted to run a 5k for so long. And I've worked so hard the last 10 weeks to keep pushing myself harder and harder to get to this point. And every time I relaxed and stopped worrying about my pace and just kind of took the whole thing in – the feel of the breeze, notice the bobbing heads in front of me, etc – I'd get choked up.
The first mile was okay. The fact that I can even run a solid mile at all is amazing considering I never could in high school. The second mile was rough, as was a part of the 3rd mile. But that last portion? I must have had some major huge adrenaline rush, because it felt like I found my second wind. I just kept going and kept going. And as soon as I turned the final corner and had the big finish line in my sights I pushed hard. I sprinted. I took these long, massive strides and just willed myself into going faster.
I depleted every last bit of energy I had left for that final push, and my reward came when I crossed the finish line: 39:03. Two days ago I ran around the neighborhood and timed in around 39:40, which means I just set myself up a new personal record!
I never thought I'd say this ever in my entire life: I can't wait to do another race!!