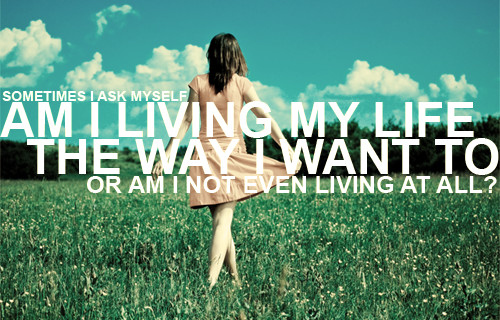 I'm trying to make sense of all the thoughts running through my head lately, and I think I've (mostly) narrowed it down to a single concept: less fluff, more meaning.
Less hiding behind a computer (or looking at my phone, or watching tv, or pretty much anything else that has a screen) looking at things that don't matter, more spending time getting out of the house and exploring or spending time with my family.  Less impersonal/superficial social media friendships, more real-life friendships and time spent cultivating those relationships. Less time and money spent on things I'm not passionate about, more time and money spent on the things that I am passionate about. Less living my life the way I think others expect me to, more living my life the way I know I'll be happiest.
There's really only one way to start living the life I wish I had, and it's to cut the fluff and fill in the gaps with things that have meaning to me. This isn't going to be easy – creature of habit and all of that. But I'm tired of sitting and reflecting on my life and wondering why I'm unhappy and why I don't have the life I've been dreaming of. So it's time for a change of epic proportions.