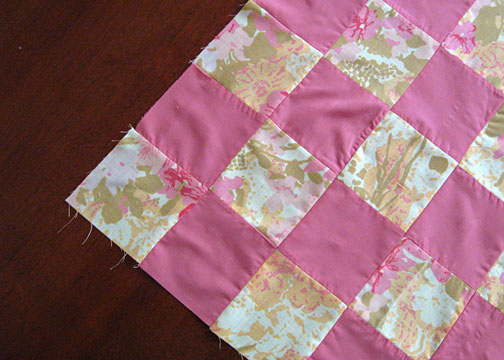 Christmas 1986 my grandparents gifted my sister and I with a wood cradle and matching chair for our dolls. We each had our own with our names written underneath so we knew which one was which. After we grew out of using them, my mom and dad tucked them away for later when we might have our own children. And now the little cradles and chairs are with my sister and I.
In between the OMGENTERTAINMEAUNTIE! moments I cut up a few 4.5″ blocks to make a little blanket for my sister's cradle so my niece has something to use with her dolls. It's nothing much – just some cheap broadcloth I had on hand and the patterned fabric is from a vintage pillowcase I picked up at the thrift store for 99 cents. It's not perfect – the broadcloth puckered, and the corners of my squares don't all match up like they should. I'm not great at this quilting thing, or maybe it's just that I'm not so picky about it? Regardless, the munchkin will be happy regardless of its faults.
In other sewing news, I finally purchased batting and backing fabric for this old project. I figured it was about time to get on with it, so I'm slowly piecing that project together.