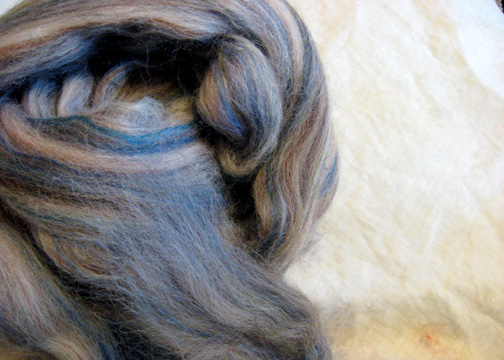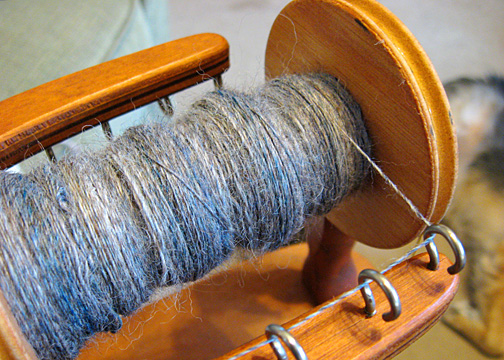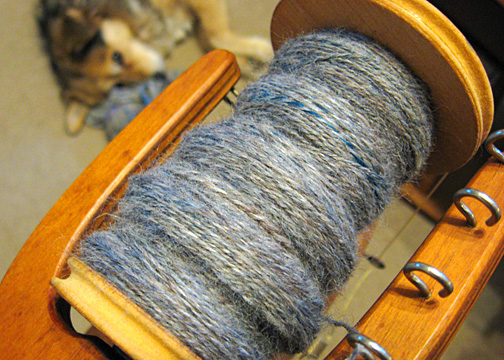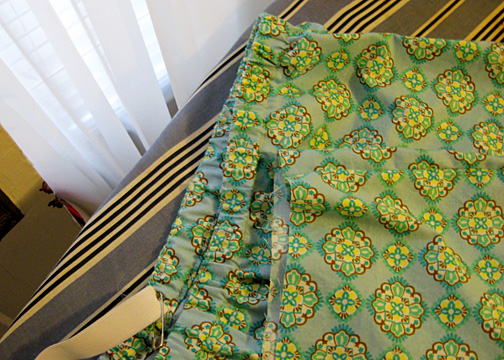 As I sit here and write I'm wrapped in my thick Vernal Equinox shawl. The 80 degree temperatures of this past week are most definitely gone, and the rain and cold and those endless hazy gray clouds cover the sky.The lack of sunlight is making it difficult to take photos (or I need to learn how to compensate better).
It's been a lazy weekend, filled with lots of sitting about and watching TV and crafting. I've made a lot of progress on some yarn on my wheel, the color of which is quite fitting for a weekend such as this. Gray, with hints of brown and blue. It's quite boring and makes me sleepy. Even the pup is lazying about.
I did get up the nerve to give some sewing a shot. A pair of pajama pants with fabric from the stash. The last pajamas I attempted were a total disaster, so it took serious courage to attempt them again. So far, so good. They went together well, I didn't have to rip any seams, and – most important – they fit. The elastic band is in but needs finished/secured, and the bottom of the pant legs need hemmed. But that's the easy part. And now that I have a tiny bit of confidence with sewing patterns I'm resisting the urge to run to the fabric store to make more. And maybe snag a new pattern or two to try.
Maybe this knitter can learn to sew clothes, after all?