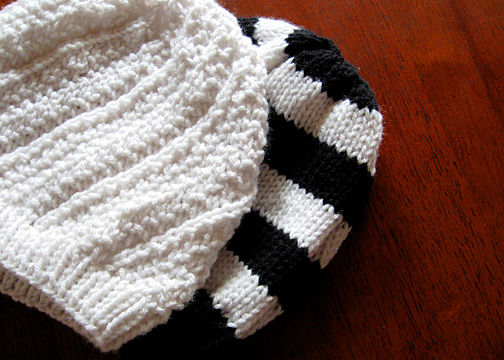 Charity hats #1 and 2. White one is Twistygoo, black and white one is Hadley. That's 2 down, 8 more to go (with one kid-sized one on the needles currently).
It's hard to believe that we're in the final days before Thanksgiving. We're hosting again this year, which means a lot of cleaning going on as well as a lot of stress. I'm sure the family doesn't care if the house isn't spotless, but I clean like they do regardless. I've decided this year to make my life a tad easier, so I'm just doing the turkey and stuffing (oh, and homemade cranberry sauce) and requested everyone else bring a dish or two. Last year I made sides and by the time everyone brought their own dishes we had too much food and not enough counter space!
Other things/ramblings:
Finally getting back into running after taking 6 months off after my 5k in May. Might even be getting the Mr to join me this time around! It's probably too much to hope that we'll be running 5k's together come Spring.
Ran across The Life Less Bullshit Manifesto today and I'm in love. Both with the manifesto and the author.
In line with the manifesto's "spend less time obsessing and more time actually doing" idea, I decided to dump a chore I absolutely hate: planning dinners/grocery lists for the week. So I signed up with eMeals. Every week I'm now getting my grocery list emailed straight to me so I don't have to think of it. No more trolling the internet looking for food inspiration when I really just don't care so long as its healthy/not full of processed crap.
Ikea! Oh, Ikea! Took a trip Saturday to visit and came home with a new shower curtain, some new towels, a new memory-foam pillow (which was annoying the first night, but I'm adjusting and my neck is thanking me). I did not come home with the Strandmon chair I saw and immediately wanted. I was incredibly tempted, however.
Racking off my 2nd batch of hard cider today! Or maybe bottling. I need to taste it and see. Trying to decide what next to brew. Mead, maybe?