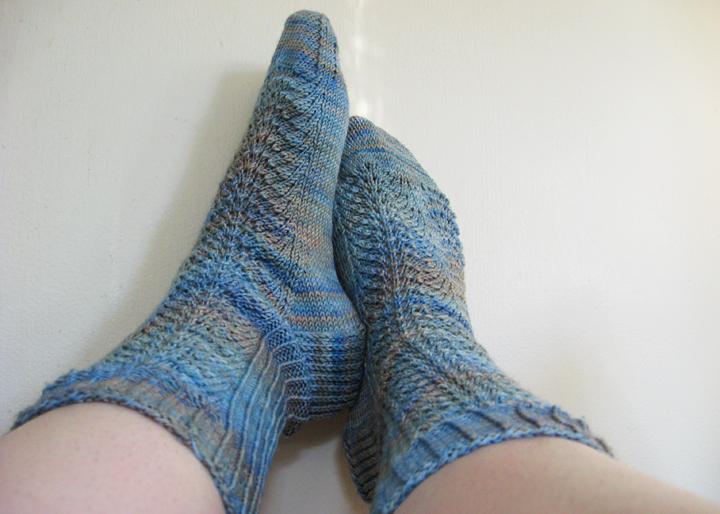 While in Chicago I swung by Loopy Yarns for some souvenir yarn. The store is on the southern part of the loop, close to where the husband had his conference at the Hilton, so it was a fairly quick walk to visit after our lunch. It was incredibly tempting to pick up yarn for larger projects, but since I was close to finishing my current sock project it seemed sensible to pick up another skein of sock yarn so I could start it right away. I had a skein of Malabrigo Sock in my knitting bag back at the apartment, but why knit that when I could immediately jump into knitting something shiny and new?
I've been trying to make sure I buy new brands of yarn when I can find it – it feels less fun to pick up something I can get back home or something I've already worked with. This yarn is Dream in Color's Everlasting Sock in the Island colorway. I've not used Dream in Color before, so it perfectly fit my criteria for what I was allowing myself to grab. The pattern is my lovely friend Dona's By The Seine sock, which seems  fitting for this colorway and the fact that we were on vacation. I love this pattern and I think it's something I may end knitting multiple times when I want something more 'fancy' for my socks. Lately I've been all about just cranking them out as fast as I can just so I can get some of my stash knit up. The yarn is, of course, lovely – but the real test, for me anyway, is how well it holds up to washing. I don't have the patience to hand wash socks, especially now with the baby, and I've been disappointed with some of my supposedly washable socks immediately shredding in the washer.
This might be the fastest knitting project I've completed in a long time. A week is all it took, though to be fair a large part of it was knit while in Chicago and on the road back home so that certainly helps. I miss being able to sit and knit and complete things quickly – it's much too hard to sit for too long with a baby to chase around.