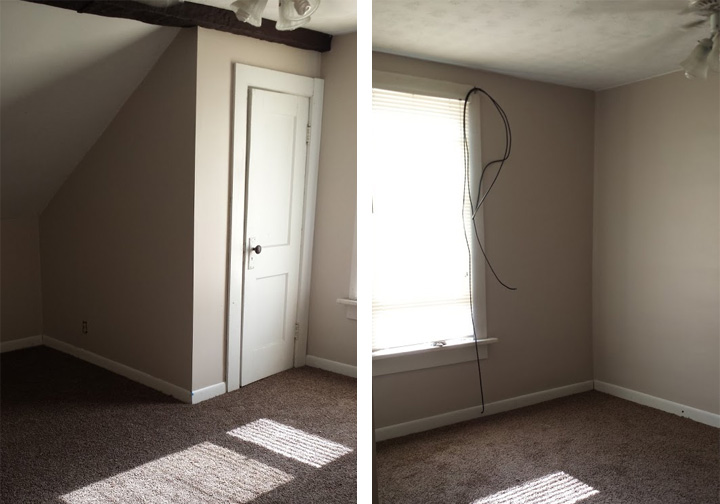 This room… it's been long neglected since we moved in. Originally the stepson's room, we ran out of time (and money) to do much with it, so he was stuck with ugly old red carpet and half-assed painted walls left from the previous residents. When he moved out, the room was shut up and ignored except for the handful of times I shoved a thing or two in there to store until later (namely, the twin bed that was in the former guest/craft room until I was booted out to make room for kids). It felt weird to take it over right away – I didn't know if he'd want to move back and I didn't want the room clean out to happen too quickly and hurt his feelings. I'm not sure what the etiquette is on cleaning out an empty room, but it's been a few years so it feels more okay now.
It started with paint. Fresh paint was the easy part, and I'm saying that as someone who totally hates painting. Then I pulled up a corner of the carpet, which was a ridiculous disaster! I've ripped out carpet before, but I've never ripped out this particular type with the padding and carpet in one, and glued down to the wood floors. With one portion pulled up, it just felt like I might as well get it over with and put all new carpet in before I put furniture back. Much scraping and cursing and sweeping ensued with about 4 trash bags full of the remnants of the padding. But! Joy! New carpet is so lovely and really does make this room the place I envisioned when I started picking colors. I scored a remnant piece at a local carpet store, which saved me several hundred dollars. I have about $450 in this room so far with paint, spackle, carpet, etc – that's it. Not too shabby, really.
I've purged TONS of things this last week cleaning this room out. We took a kids-type couch thing to the husband's workplace for their teen room, plus several car loads of Goodwill donations (a TV, bags of clothes, decorative things, etc) And I still have more to go tomorrow. I'm trying to purposefully keep this room minimalistic, partially because hi, I don't need half the stuff I already have, and partially because it's all fresh and clean at the moment and I want to keep that feeling.
There's definitely irony in wanting to be more minimalist yet having a room dedicated to crafts. I know that. Is it necessary? Definitely not. Could I make do with where my crafts are now and just purge more to free up space? Absolutely. But… we have this 4th bedroom. I can't make it disappear, and moving to a smaller house isn't an option at the moment. And it seems like an absolute waste to just keep the room shut up and never used, never looked at, etc. So, it's a compromise. And it's certainly getting me to let go of a lot of things we don't use/need, so I think it balances out.