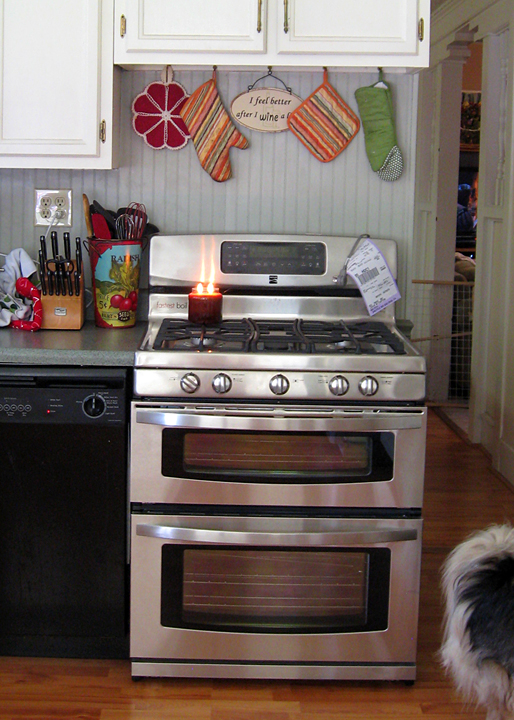 So… this got delivered today. New carpet yesterday, new stove today – it feels a bit like I've won the lottery even though, in reality, we've worked hard to save money up to be able to buy these things. I'm beyond excited! I've wanted a new stove since… well, since we bought the house. We've been using the one that came with the place and it was falling apart and never cooked very well. The husband told me for my birthday he had a few ideas: a new smartphone, a FitBit, or a new stove. Despite my cracked screen I really don't need a new phone, and I'm not really all that interested in a FitBit, but a stove? HELL YES!
I was originally only in the market for a single oven with the 5 gas burners (and the middle burner HAD to be a long one). But then I was presented the option of getting a double oven – in his paraphrased words, "If we're buying a new one you might as well get the double oven like I know you want." See, we host Thanksgiving every year. And every year I start thinking about how I need a new stove. And while I've only ever thought about single ovens because of the price difference, I've certainly dreamed about a double oven to multi-task things that get made for dinner. I would have been stupid to turn that proposal down.
So after some drama and much arguing (I had found a double oven like I wanted on clearance for a really good deal but was told "we don't have to buy anything today", which put quite the damper on the joy of getting a birthday present), we scored this one. And you know, it turned out to be an even better deal than the first one I found. The 60% off kind of better. As impatient and angry as I was about it two weeks prior, that day totally made up for it.
I can't use it yet, sadly. It turns out that the old gas line that runs behind the stove was unhooked when our new furnace was put in. My dad came over Sunday to try to hook it back up but was missing a piece so I'm waiting for him to come back in a day or two and finish the job. Until then I'm eating either microwaved foods or stuff I can make right out of the fridge, which is really just fine since it's summer and I'm not really wanting anything hot anyway. As soon as it's hooked up, though, I'll be baking and cooking ALL the things for a while :)