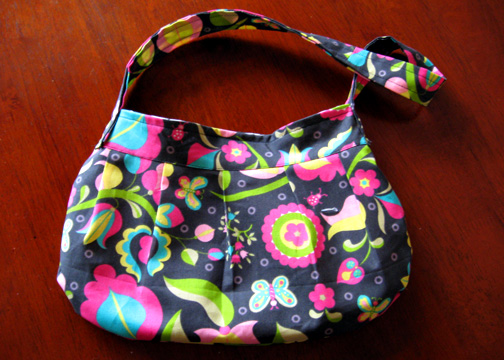 $4 for 2 fat quarters
+ $2.50 for a magnetic snap
+ Barely anything for a few squares of fusible interfacing
+ Free pattern from Made By Rae
————————————-
Cute new spring purse for less than $7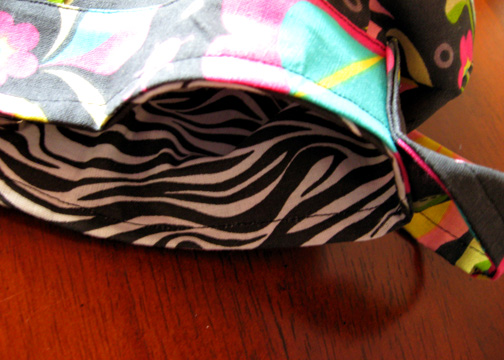 My current purse (a store-purchased one) is getting pretty beat up and ugly. Rather than buy another one I figured I'd just sew myself one. I've toyed with making bags in the past, but I'm still far from great at them.
This one had some mistakes (like cutting the fabric the wrong way and having to improvise the strap), and I probably should have done the top stitching across the edge of the bag and the straps a little closer than I did. It was my first time using fusible interfacing, and my first time using magnetic snaps as well. I think, on my next bag, I'll use the interfacing on the entire bag and not just where the snaps go to make it a bit more sturdy overall. But for this size bag, two layers of fabric seem to be sturdy enough.
It's a bit smaller than I usually carry. I knew it would be a small bag when I decided to make it. After all, you can't get much from 2 fat quarters. The outside fabric immediately drew my attention when I saw it in the store – deciding on the inside fabric was the hard part. This fabric has so many colors on it that a nice solid color would have been ok. But I wanted something different – something fun/funky. I mean, I'm the one that has to see it day in and day out, so why not? And then I found this charcoal/white zebra print and I knew I had to have it.
Overall, I'm pretty damn pleased with myself and my new bag. I purchased the patterns for Daphne, Ava Rose, and the Market Bag from Artsy Crafty Babe yesterday so I do believe I'll be trying my hand at one of those later this weekend or maybe the next. I've been eyeing her patterns for so long and finally sucked it up and purchased them. We'll see how I do with one of those patterns now that I have some new skills/knowledge under my belt.