Today I turned 32. I feel older than that. I probably look older than that, to be honest. I have more gray hairs than I imagined I'd have at 32, and it gets worse by the week, and sometimes I worry I look like I'm mid 30s going on 60. Especially when I'm knitting in public. But eh, what are you going to do? The silver strands don't take dye well at all, so even attempting to hide it just leaves me with some other color hair mixed with silver. So the only thing to do is just embrace it and hope that I can make natural grey look cute, I guess.
Anyway. 32. Most years I bake myself my own cake. This is a long-running tradition for me, and while it started out as a bit of a bitter project because no one got me cake… it has turned out to be a thing I very much enjoy doing. There's something nice about making a special treat just for yourself, as a celebration of yourself and the one year older you became. This year, though, I took things a different direction. I had that new pie plate… and fresh raspberries in the yard… and we had nectarines in the fridge… Pie it is!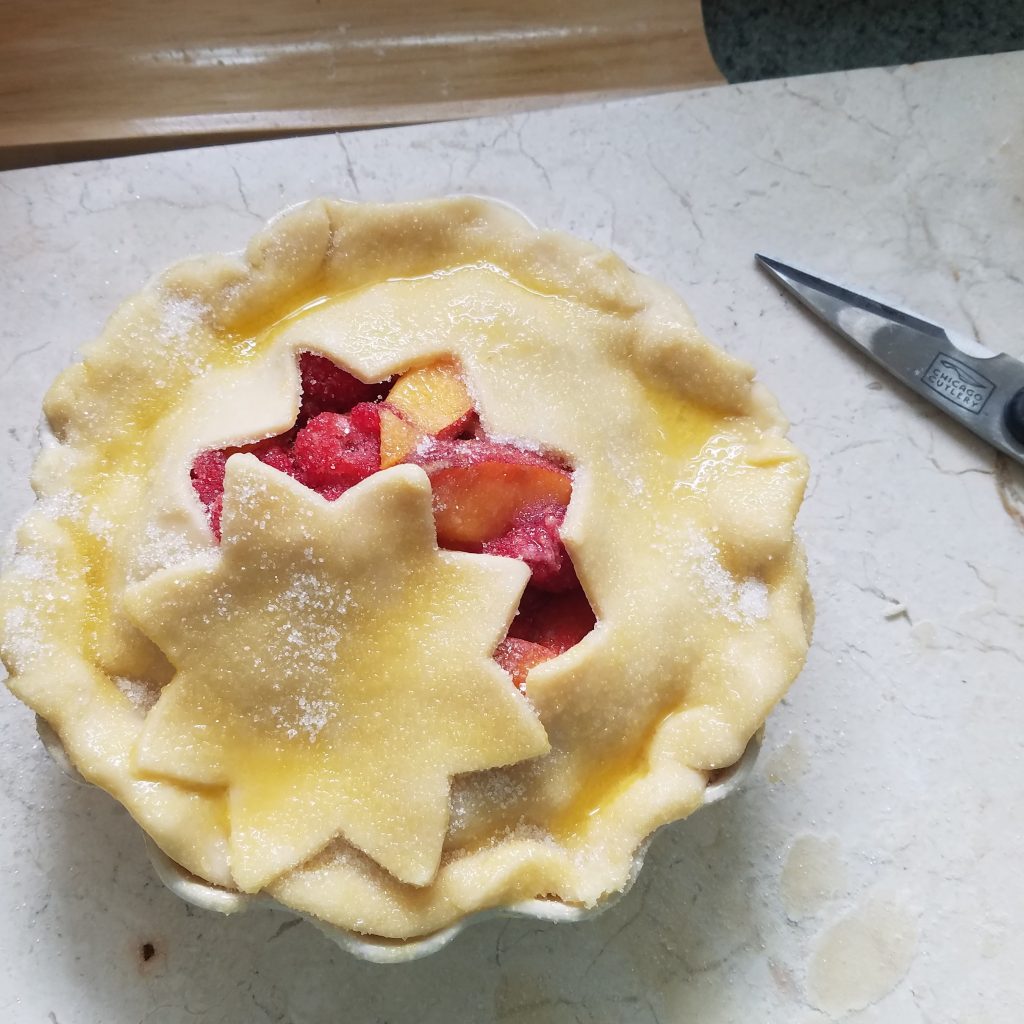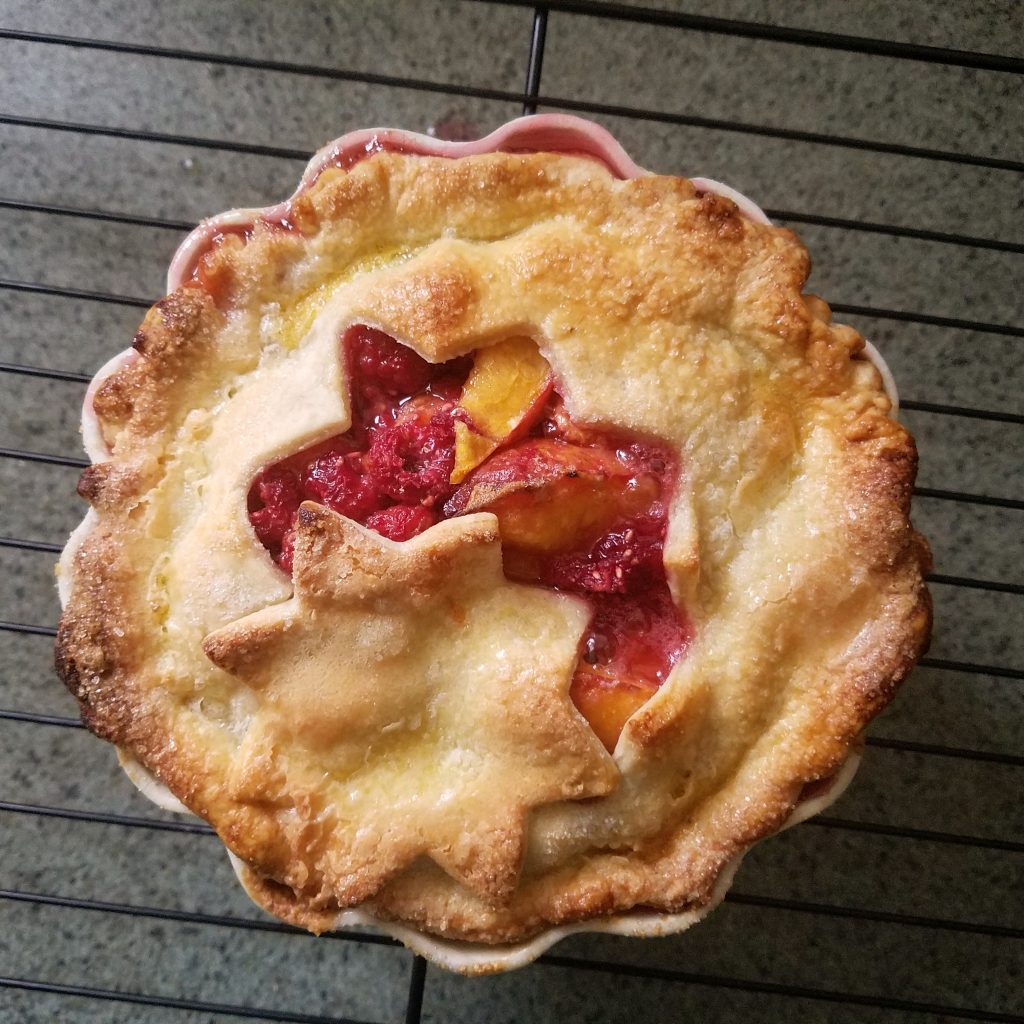 The thing about pie, in this household, is that I'm the only one who eats it. (Well, the little Mr does, too, but he's easy to hide it from). So literally there is no one else in this house that I have to share it with. My pie crust skills needs serious work, so it's a bit messy, but OMG is it GOOD. Summer in a pie, right here. Maybe birthday pie is going to end up being the thing I do, instead of cake. After all, pie has fruit so it's instantly healthy, right? No? Oh well. Worth a shot.
So after all the pie making, I spent today locked up in my craft room to sew. First up, I finished my sister's wedding quilt (and I'm hoping my sister doesn't know about this blog, or if she does she has sense enough to just avert her eyes and move on to another website so there aren't spoilers… consider yourself warned, sis!)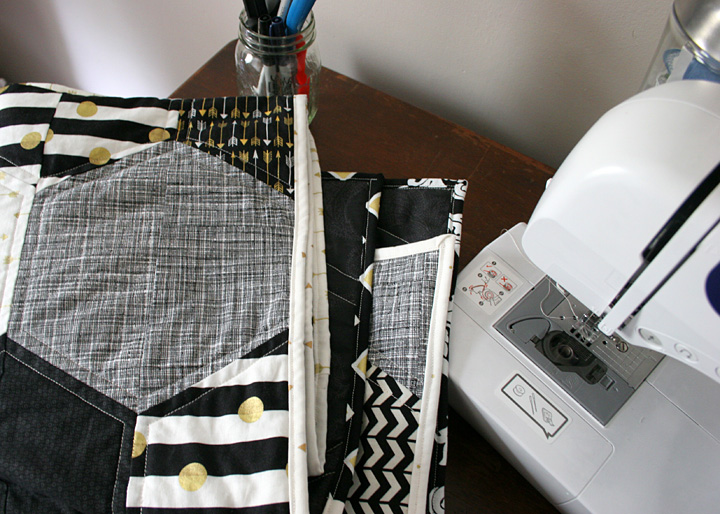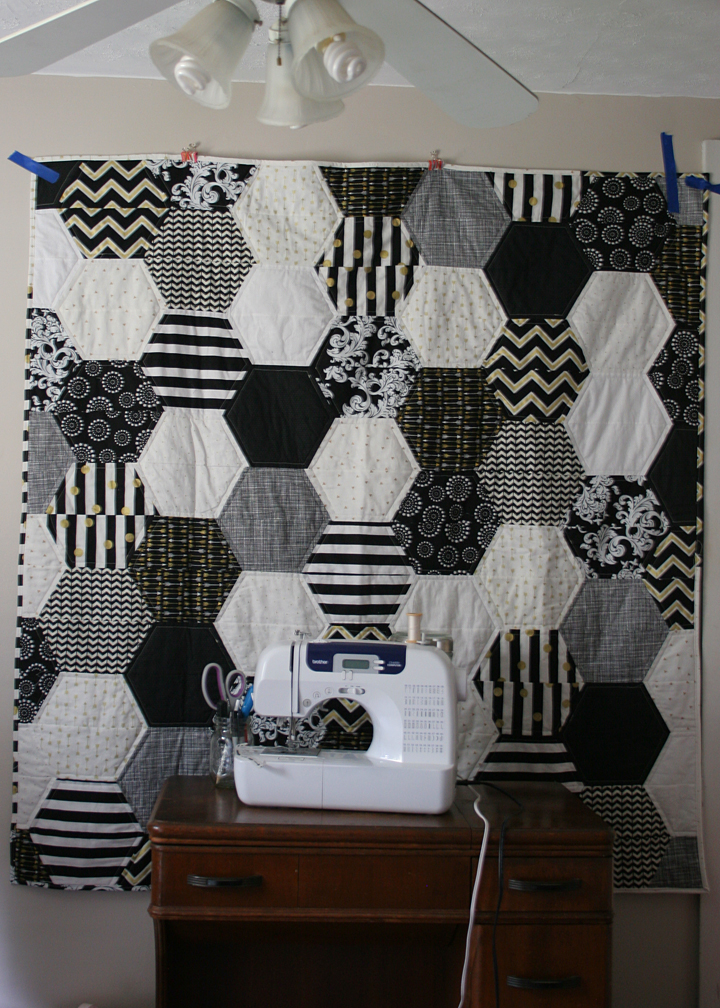 I'm so excited to have it finished! And… I kind of don't want to give it away. It was a LOT of work. Do you see how small my sewing machine is? Do you know how hard it was to roll that quilt and get it shoved through that small hole so I could quilt it? SO. MUCH. WORK. But… I'm pretty sure I'm going to make another one so I can have one for myself. Different fabrics, of course, though I do love the black/white/gold combo so much. But, alas, without a gift quilt to gift I'd have to come up with something else and chances are slim to none that I'd get something made before Saturday. I decided to machine the binding, and I thought I might regret it but I don't at all. It looks fine. It's still handmade, regardless of how the binding is done. And it was way less stressful to machine it.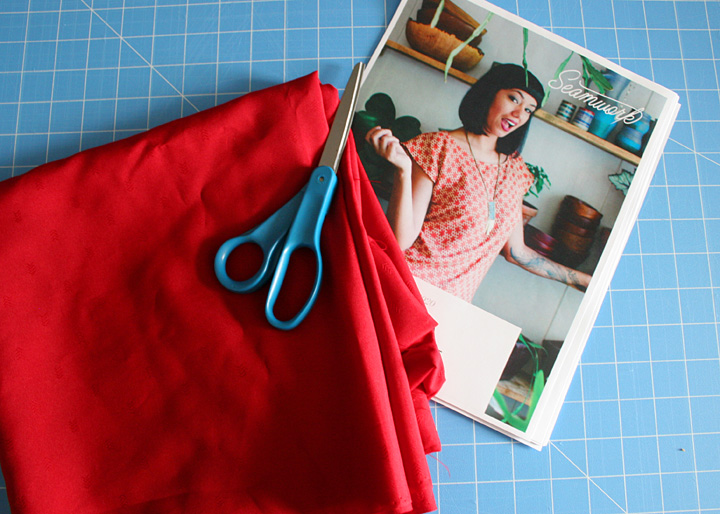 After the quilt was done, I decided I needed a new shirt. The thing with having a uniform for work is that I don't need near as many clothes as I have. So I need a new shirt like I need another hole in the head… but I can make myself a new shirt to replace one of my commercially bought ones that is nearly worn out, so it's a compromise. I've had this Akita pattern in my library since it was released, but never got around to it. The fabric is some mystery fabric I found for $1 at the Goodwill (score!) that was more than enough to make this shirt. I'm nearly done with it – all I have left to do is hem the bottom and sew on the neck binding. If all goes well, I'll get it finished tomorrow morning and be able to wear it. It's purely coincidence that it's red and tomorrow is the 4th of July. I'm not exactly the most patriotic of people. Mostly, I just like the BBQs and the pie. :) But more on the shirt tomorrow when it's done – I added a special little detail that I want tho tell you about when I have more time (and when birthday pie isn't still lingering, begging for me to eat it).