Took a go at a new-to-me banana bread recipe. Years ago I was given one of those Better Homes & Gardens binder cookbooks, which is where my original recipe had come from. I hadn't made banana bread in years because, well, I didn't like my old recipe. Or that cook book, for that matter (and I suspect that, given the amount of them I see at the thrift stores, many other people out there have had the same experience after they actually learned a thing or two about cooking or baking).
There they sat, three pathetic-looking bananas, wasting away on the kitchen counter. And, since I've been on a trying-new-recipes groove this last 6 months or so, I thought I'd start my search for a new recipe. One worthy of a place in my family recipe book, next to my grandmothers zucchini bread recipe.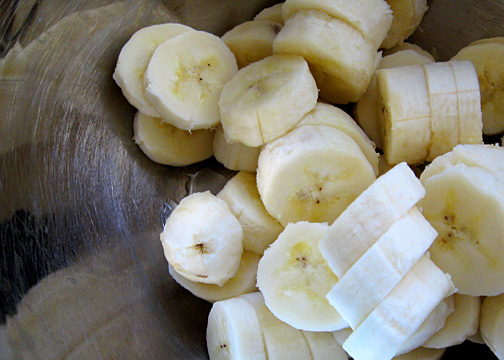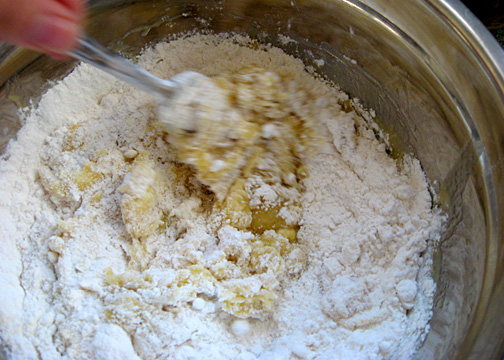 This recipe was picked because it didn't call for adding oil to the batter. Instead, it called for melted butter. And butter = better, in my opinion. Also, it didn't require a mixer – you can do it by hand with a wooden spoon (or, in my case, a regular ol' fork).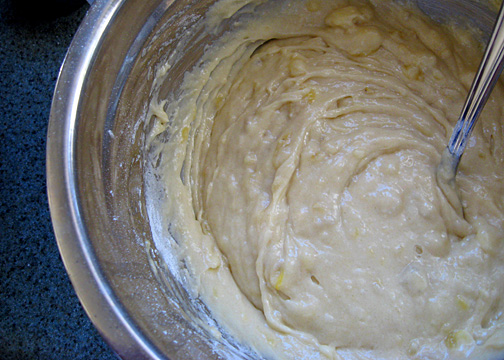 So I mixed the wet ingredients together, and sifted the dry, and then beat the whole thing into submission before I dumped it all into a buttered loaf pan and threw it in the oven.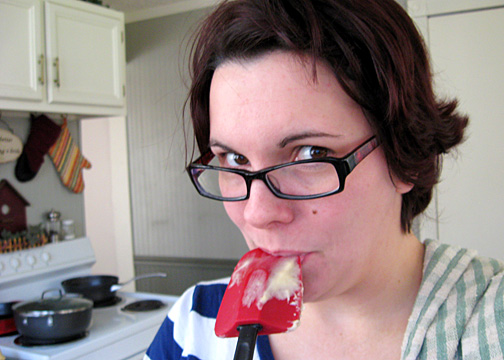 And then I licked clean the spatula, because I'm of the opinion that you can tell how good your finished product will be if your batter is tasty (raw eggs and salmonella be damned!)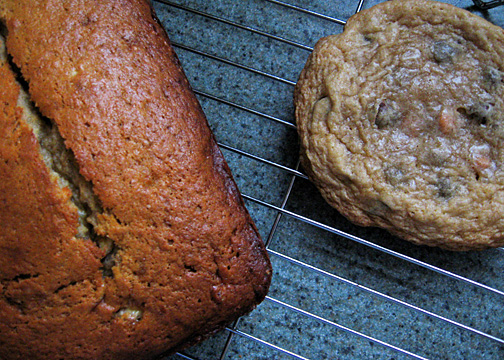 And 50 minutes later I had what has to be the most gorgeous loaf of banana bread I've ever baked. The house smelled amazing, the bread turned a gorgeous golden color, the inside was perfectly done (not gooey or under-cooked like my previous recipe), and it tastes really wonderful and moist.  I think we'll call this a keeper, with a few modifications of my own, of course.
Banana Bread
Adapted from here
3 ripe bananas, mashed
1/3 cup melted butter
3/4 cup sugar
1 egg, beaten
1 tsp vanilla extract
1/2 tsp rum extract
1 tsp baking soda
A pinch of salt
1-1/2 cups flour
1/4 cup chopped nuts (I prefer walnuts. Also, this is optional if you're not a nut person)
Preheat oven to 350 degrees, and grease or butter a bread loaf pan.
Sift together flour, sugar, baking soda, and salt. Mix the butter, egg, vanilla, rum extract, and mashed bananas together. Then add the dry ingredients to the wet and stir until thoroughly combined. Dump it all in the loaf pan and bake for about 50 minutes, then cool in pan for 10 minutes before removing from pan and transferring to a wire rack to cool completely.