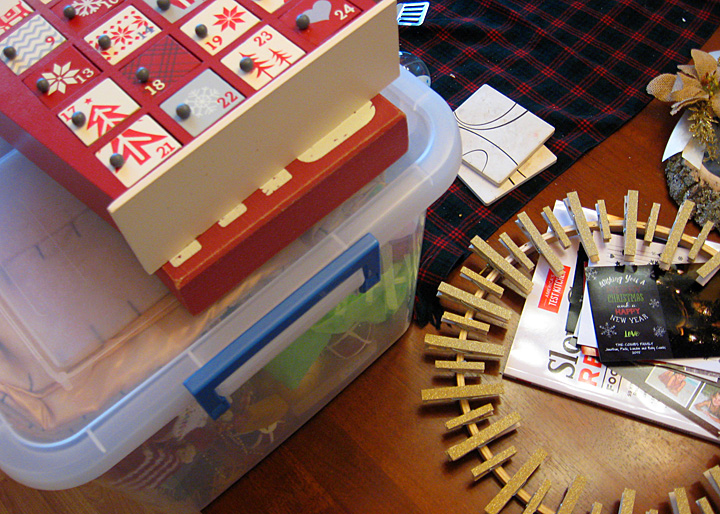 Well, the holiday came and, thankfully, went. I managed to mostly avoid being totally Grinch-like, but I just couldn't find the holiday spirit in me these last two weeks. But I put on a good show, I guess. Now that the last of the parties are over, it's time to take it all down. Normally I wait until January 1st but I just… can't this year. I'm over it, and that means it's time for it all to be packed back up for next year.
The husband's sweater still isn't done. Last week I was a knitter with a plan – I had finished the 2nd sleeve on Friday night and it was decided that I'd block the pieces out Saturday, sew it all together Sunday, and then spend Monday-Wednesday doing the collar finishing. And then the universe laughed at me, gave me a stomach virus that left me foodless and in bed for over 24 hours, and before I knew it Tuesday arrived. At which point all my time ended up dedicated to baking and going last-minute gift shopping, setting up gifts from Santa, etc. Maybe if I try hard enough I can get it done before New Year? I mean, as long as he gets it in December it's still considered a Christmas gift, right?
I didn't get all the baking I wanted to get done, either. And, because this season was in general a disorganized clusterf—, I have gifts that I completely forgot about that weren't actually wrapped and gifted to their intended recipient. Honestly, this may be a sign that I just bought too damn much in the first place. I mean, if I couldn't remember what all I bought then clearly that's the case, yes? But I still feel stupid about it all – I really, honestly, didn't buy THAT much. I've just really been that scatterbrained this year.
Next year there will be lists and spreadsheets (much in the way I hear YarnHarlot talk about her spreadsheets). It's obvious that this new role of mine as a mother is far more complicated than I originally anticipated and if I don't make detailed and early plans – with wiggle room because life happens – that next year might be another cluster as well.
Sigh. Well, on with life. Back to the usual.