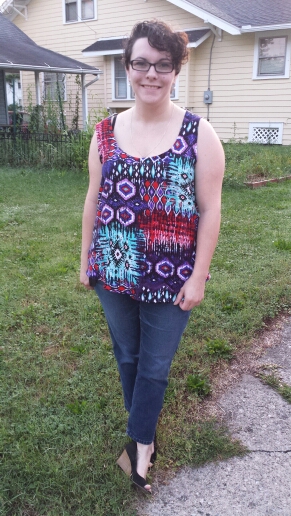 I've finally finished my Wiksten tank. Looking back at prior posts, I bought this fabric clear back in March when I had this itch for some spring clothes. It's now August. So much for spring/summer wear, I guess.
After I finished my Watercolor Sorbetto tank I cut out the Wiksten pattern, made myself a muslin to adjust fit, and then cut and began sewing up with my good fabric. I managed to get everything done except for the facing on one arm hole and the hem of the bottom. And then I just… stopped. It sat there, on the sewing machine table, waiting for me. Mocking me. Nagging me. Begging me to finish it. I knew it wouldn't be that big of a deal to do those two things, and I knew I just needed to suck it up and make the effort, but procrastinating on it was easier. There were more important things to do. And then, suddenly, I realized it was August and I was quickly running out of time to even wear it. So, I finished it.
What do you think? The fabric pattern may end up looking dated next summer… but then do I really care about being "on trend" with this fast fashion thing? Yeah, no. Not really. The fit itself is… meh. My first muslin was based on bust size (large) and came out too big, so I went down to a medium in the bust and graded it out to a large in the hips. The muslin seemed to fit okay, so I ran with it. But now, with tank finished, I feel like I could have gone with a medium all around, or even possibly a small on top to a medium on bottom given how this fits. Which really baffles me because I'm most definitely not a size small and haven't been for some time.
Regardless, all the girls at work are raving about it. I've gotten quite a bit of compliments on it, followed by shock when I admit that I made it myself. So that's definitely a win in the not-looking-handmade department!
For my next wardrobe piece, I'm going to give the Mesa dress a shot. I ended up subscribing to Seamwork and, because I missed the issue it was in, I bought the pattern to make it. I'm hoping it becomes a bit of a wardrobe staple that I can wear to work with my jackets and cardigans. I'm not sure I picked out the right fabric – ordering online is rough until I learn more about the fabrics I'm using. And knits… well, that's a challenge on its own. We'll see how it goes, though.