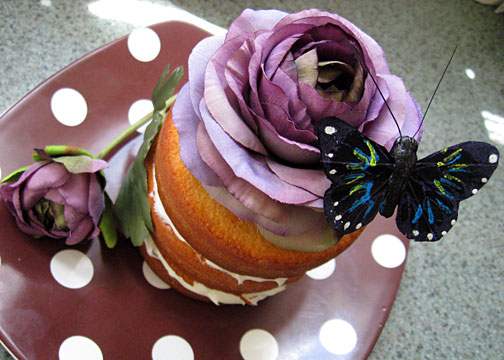 I've had this bee in my bonnet lately over tiny cakes.
You see, I love cake like I love snow: It's good for one day, and after that it needs to go away. Cake for a little celebration, whether it be a birthday or an anniversary or just as a special little treat, is fabulous. Cake the day after (or, as it happens around our house, for days and days and days) not so much.  I just want my cake for the day and then I want it to go away. So, of course, I've been thinking a lot on baby cakes. Small little one-day affairs that are the perfect little treat, but don't stick with you for longer than necessary. Bigger than a cupcake, but not so big as a regular-sized cake.
The universe and I were completely in sync today on this tiny cake thing. Out, I ventured, in search of something to bake tiny cakes in. And surprise! Tiny cake pans on clearance at Hobby Lobby! And, bonus, cute polka-dot plate – perfectly sized for a little cake – on the clearance shelf for $1!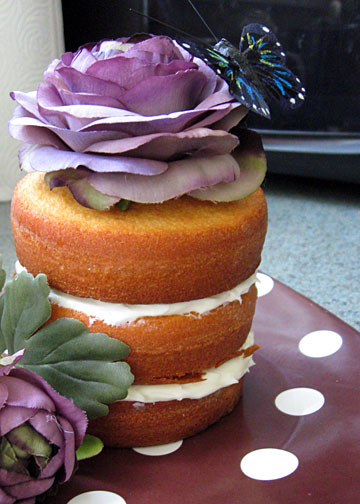 I used what has become my favorite old-fashioned cake recipe and made a little 3-tier and decorated it special for my sister's birthday (Just a silk flower stem, since my rose bushes aren't doing so hot lately to put some pretty fresh flowers on, and a little decorative butterfly… I think, total, the stem and the butterfly cost me $5, but the butterflies were a pack of 6 so I have 5 left for future cakes).  I didn't have anything on hand to make frosting from scratch so I just used some plain frosting-in-a-can. Next time I'll do Alicia's Cloudburst Frosting, which is what I used on my own birthday cake last month and I definitely prefer it now to other frostings.
The tiny cake pans use so little batter, however, that I need to do a little math and figure out how to cut the recipe down.  I think I only used about 1/2 cup or so of batter in each pan, and I had more than enough batter to make a single 8″ round cake AND I tried out one of my small glass Pyrex storage containers as a cake pan, too.  So, essentially, I have 3 cakes out of one recipe. Which, now that I think about it, might not be such a huge deal – perhaps I should wrap the spares up well and freeze them for the next time I need a cake for a special occasion?