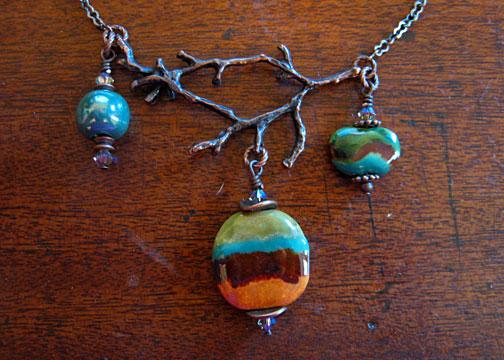 I'm not quite sure the best tactic for a knitter at a fiber/yarn show, but I think the lesson for the day is that having a plan means coming home (mostly) empty handed.
This weekend was the Great Lakes Fiber Show, which we visited last year and I scored quite a haul. I was really looking forward to this year's show, hoping I might come home with a few lovely items to add to the fiber stash. But as a knitter with a plan I was restricted on what I was allowing myself to buy. What I wanted was a few skeins of semi-solid sport weight yarn (or, as I later decided when that failed, semi-solid fiber to spin into my own sport-weight yarn). What I found was massive amounts of variegated sock yarn and fiber, both of which are too busy for the project I had in mind. Don't get me wrong, I love some of the more variegated yarns for projects here and there, but I'm really more of a semi-solid/tonal kind of gal. And it seems like the majority of small/indie dyers don't really go for those colorways much.
I ended up coming home with this lovely new necklace and a matching pair of earrings, which is probably for the best with regards to my stash. I have fiber still un-spun, yarn un-knit, and I keep finding more as I clean out the old craft room closet to make room for baby clothes. I'm supposed to be stashing down as part of my ultimate goal of minimizing my stuff, not buying more than I have time to spin/knit. Which means taking a cold, hard look at what I have now and facing the reality that I do not need buy yarn, even if I really do feel like I need to make this project happen right now. 
No, the project can wait. The new yarn can wait. The old yarn lingers far too long, waiting to be knit into long forgotten sweaters and scarves and mitts. Perhaps, after I've knit through a few things here and there, I'll revisit the project. Or, perhaps, the idea will fade and I'll move on to something else.