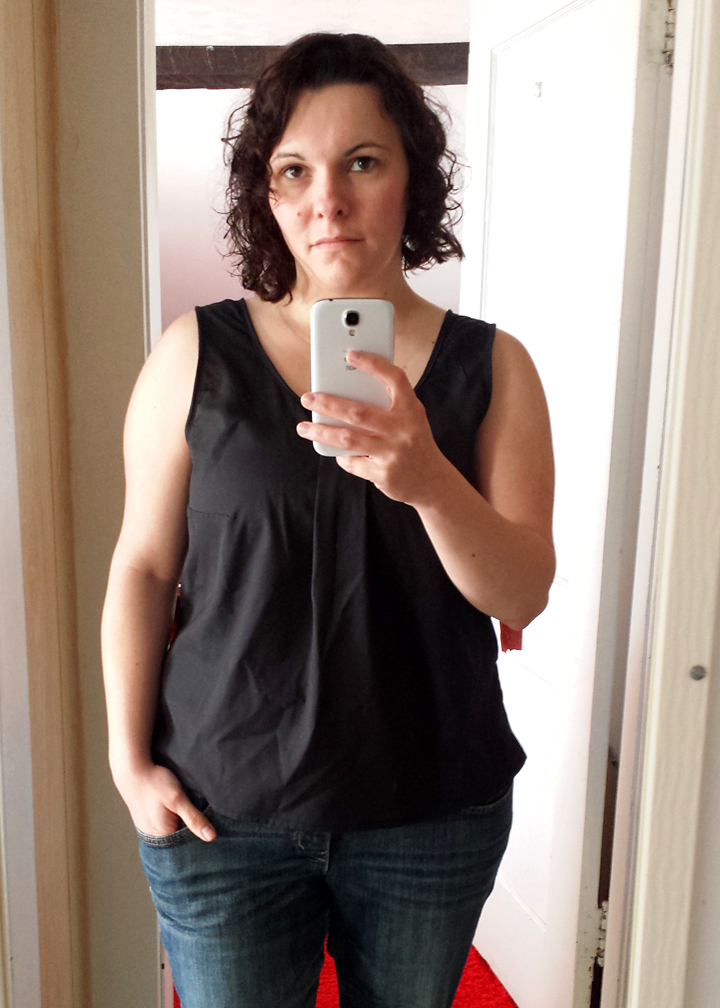 I'm officially one step closer to crafting myself a handmade wardrobe! For the first time ever I've managed to make myself something that not only fits, but doesn't look like a handmade nightmare. Hooray! (Please ignore that it needs ironed – I was too excited to try it on and see how it looks!) I'm feeling a bit more confident in my sewing after this project, and I've been spending far too much time looking at fabric and patterns for future projects.
I didn't use some old vintage sheets after all and, instead, used some black broadcloth I had hanging around. I opted this time for only a partial pleat as I was worried that my wide hips would be too big for the tank if I kept it all the way through. I think now, though, that it would have been fine or that maybe if I just took it in an inch it would be better (not too wide, but not too tight). And I'm happy to report that I don't notice the arm holes gaping like I did before – I think the bias tape helped a lot with taming that, but I could be wrong.
I want to make a bazillion of these in solid colors now – I can see myself layering these tanks under my blazers for work. I might play with the neckline a bit, though, and opt for a gathered neckline instead of pleated, or maybe omit it entirely and just grade it out with my hips to make it work. I don't want to wear the exact same style all the time, but the lovely thing about this pattern is that it has a lot of options for customizing and modifying. Overall I'm crazy thrilled to be able to have something else to wear that I made. Learning to make things (both knitting and now sewing) gives me a huge amount of appreciation for the amount of time and money and skill that goes into the things we all wear on a regular basis.
I bought the Wiksten tank yesterday, so watch out for one of those to be popping on here soon! Though not until I've made a Sorbetto in my fancier fabric. :)