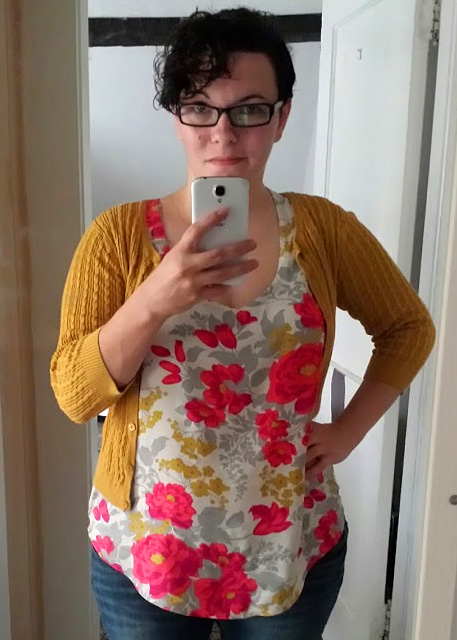 I finished this last Wednesday, wore it to work Thursday, and then promptly forgot to get photographs of it. So I'm wearing it again today and sharing a quick selfie because I'll probably forget again down the road.
This is another Wiksten tank, only I did a straight medium size instead of the medium on top/larger size on bottom. MUCH better fit, and it looks really adorable with a cardigan. Today I paired it with this gold one, but Thursday I wore it with a grey one. I might have to knit myself up a pink one for this winter so I have something else to pair with it. The fabric is Rose Bouquet Rayon in Poppy by Joel Dewberry and I ordered it from Hawthorne Threads, which might end up being my new favorite place to order online because they carry a lot of pretty fabrics. It's a nice change from the blah things my local Joanns carries (which is half of what the larger Joanns stores have in the bigger cities).
I definitely have plans for another Wiksten, but my next one will be the longer dress version. I have this pretty blue-with-black-dots sheer that I'm pairing with a navy sheath lining and I think it'll look quite cute with some black tights and a cardigan for winter work wear. So you've not seen the last of this pattern… But, first, I'm tackling that Mesa dress from yesterday. One project at a time, at least when it comes to sewing.